Welcome to the Blue Ash Historical Society website, dedicated to collecting, preserving, and telling the story of Blue Ash and its citizens, from the first pioneer family that arrived in 1791 to the 12,000 who today call Blue Ash home.
We have a number of events to look forward to in 2016 that will be fun, interesting, and new to this organization. We have begun archiving boxes of photos and documents. If you like puzzles, mysteries, and history this may be for you. New faces are always welcome.
The first and only walking tour of Blue Ash was in 1988.  Twenty-eight years is a long time, so we will try to catch up by hosting two walks this year.
Walking Tours
Tuesday evening, June 14, 2016
Friday evening, August 12, 2016 
Starting time is 6:30 in the parking lot near the tennis courts at the Blue Ash Recreation Center.
The tour will end in the parking lot.
Did you know there's a "haunted" building on Cooper Rd.?  Did you know early Blue Ash was home to a "honky-tonk" refreshment stand?  We guarantee you will forever travel Cooper Road with a new appreciation of local history and the names on the street signs.
The Hunt House will be open to the public on
April 9, 2016 from 1-4 pm
Many thanks to The Vintage People for a delightful afternoon of music as guests toured the Hunt House.  We hope to hear more from these musicians!
July 9, 2016 from 1-4 pm
December 3, 2016 from 1-4 pm
Join us for a tour of the Carpenter's Run Pioneer Cemetery on October 8, 1-3 pm. 
The Blue Ash Historical meets monthly.
When?
All meetings in 2016 will be on the second Thursday of each month. 
Where?
We meet at the Blue Ash Recreation Center in November and from January through March and at the Hunt House, located at 4364 Hunt Road, Blue Ash, OH from April through October.  We do not meet in December.  Please contact Tom Bell at tomnkt421@aol.com or 513-324-7145 for further information on monthly meetings.  Changes may occur without notice.  We suggest first time attendees contact Tom Bell.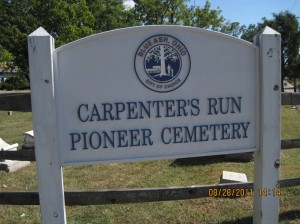 For information about the Blue Ash Historical Society, call 513-745-8525.
To arrange a tour of the Hunt House for a party of five to 20, contact Tom Bell at tomnkt@aol.com .  Please note that the house is not handicap accessible. 
We are pleased to welcome new members Elaine, Dave, Jennifer, Pam and Don!
To view photos from the Carpenter's Run Cemetery Tour, visit the Event Photos/Memory Gallery page and scroll down to August 9, 2014.  We have answers to questions asked during the tour on a subpage to August 9, 2014.
The Sycamore Senior Center has given boxes of photos to the BAHS.  We intend to make these available to anyone who wants them.  We will keep them for one year, until April 20, 2017.  If you wish to look at them, please contact Marlene Morris at fgmo@fuse.net .