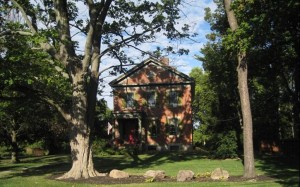 Welcome to the Blue Ash Historical Society website.
The Blue Ash Historical Society was organized in April 1986 and incorporated in 1987.
Our vision
To preserve and promote the historical heritage of Blue Ash for the betterment, enlightenment and well-being of its citizens.
We learn about Blue Ash history from its first pioneer families in 1791 to the continuation of the Summit Park development in 2017 and beyond.
Our mission
Collection—documents, photographs, artifacts, historical records
Documentation—maintaining inventory and catalog of all materials using archival-approved methods
Education—offering exhibits, events, presentations, open houses and publications
Evaluation—of current events in Blue Ash for future generations
Membership
Dues are $10 per year.  Contact  President Tom Bell tomnkt421@aol.com .
The Hunt House doors opened to the public in 2006.  Since then, thousands of guests have taken a step back in time.   We celebrated in style for the December 2016 open house and had a great turn-out of guests.