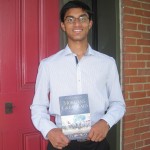 When Bradly D'Souza won David Mowery's book, we learned that his family has an interesting story to tell.  Click on the link to watch the video and read the transcript of the video.  While we think of history as stories from long ago, the Blue Ash Historical Society recognizes the value of preserving compelling stories of Blue Ash individuals and families.  We provide the link only as the material is under copyright.
http://www.fox19.com/story/22906188/family-overcomes-years-of-labor-trafficking-in-the-tri-state
The family asks that we highlight the telephone number in the Cincinnati area to report human trafficking–513-800-1863.