We had an amazing turn-out for the Morgan's Raid Commemoration!  Thank you to all of our guests, the presenters and performers, and the  photographers.   
Videos of the dedication are on youtube!!
Click on the first link to see the dedication ceremony.
http://www.youtube.com/watch?v=cGUwA6_cOk0&feature=youtu.be
Click on the second link to see a short video of the unveiling of the marker.
Sunday, July 14, Noon-5:00 pm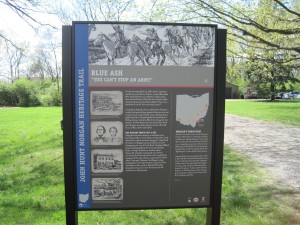 We are pleased to announce the winner of David Mowery's book, Morgan's Great Raid.  Congratulations, Bradly D'Souza!  We learned that the D'Souza family has an interesting story to tell.  Visit the Your Story page to link to their story.