Many thanks to Judy Kuethe for sharing photos of her early years in Blue Ash!
Judy's childhood home was at 4401 Hunt Rd. The photo on the left was taken in November, 1952.  The the family car is in the driveway.  Her former house is shown on the right, in November, 2007.
Judy on graduation day and in November, 2007:
Judy is pictured with her parents and younger sister on Easter, 1958.  Judy and Noah Stern posed for a picture in November, 2007.  Notice the Hunt House in the background in each photo.
Judy, her sister and some friends  pose for a phto on the last day of grade school.  Judy is with Noah at 4401 Hunt Rd. in November, 2007.
Judy and her sister pose in their front yard.  The wooded area in the background is now Ravenwood.  Notice the house in the 2007 photo behind Judy and Noah in what used to be a wooded area.
Judy is with her younger sister at Easter in 1954 and with Noah in 2007.
Judy is pictured in front of Notre Dame High School on graduation day.  And, what memories we have of those hooded hair dryers!
Judy is shown boarding her school bus and with her younger sister and friends along side their car and boat.
Judy was with some of her friends in a 1960 photo, and the one with the arrow is Roger Staubach!!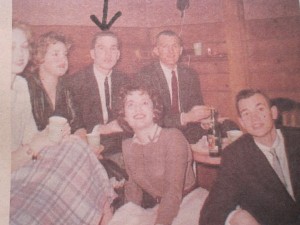 Judy and her future husband, Jim Kuethe, at Coney Island in 1958 and again in November, 2007:
In 2007, Noah interviewed Judy for a school project.  Here we share a summary of the facts he recorded.
Many neighborhoods have been constructed since the 1950s.  The intersection of Hunt and Plainfield Roads was vacant land in the 1950s.  Now there are three service stations.  The four-way stop signs for two-lane roads have been replaced with stoplights to control five lanes of traffic.  Each family had only one car, and cars in the 1950s tended to be taller and heavier.
There was no gym; there were neither computers nor televisions in the classrooms.   The classrooms had coat closets rather than indivicual cubbies.  In Catholic schools, classes were usually taught by nuns.
Judy's family did not have a television, so she read and roller skated and played with dolls.   Life went on without home computers, answering machines, cell phones, digital cameras, and GPS navigation.  Photos were taken in black and white.  Telephone numbers started with letters, such as SY, followed by numbers.  Houses were smaller.
A recreation center, swimming pool, and tennis courts were yet to be built in Blue Ash.
Judy flew in an airplane for the first time when she was 20 years old.  Her father, born in 1915, never flew in an airplane.
And, we thank Noah for his fine work on interviewing and recording the information.  He was in the third grade when this project was completed.