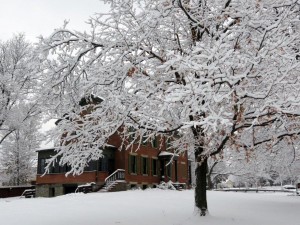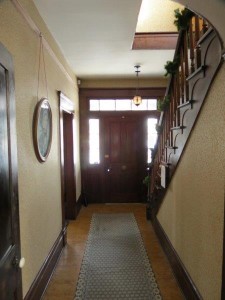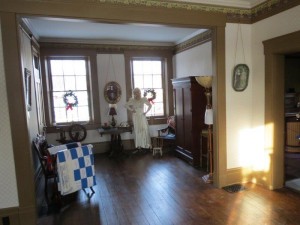 Photos above are courtesy of Jim Schaffer.
James Carpenter, born in 1762, was among the second group of settlers to land in Cincinnati in 1788; he bought land in Blue Ash from John Cleves Symmes in 1789.  Carpenter died in 1791 or 1792 and apparently never lived on the land, which was inherited by his daughter, Hannah Carpenter, who married Isaac Hunt in 1808.
Their sixth child, John Craig Hunt, was born and raised in a log cabin on the Hunt Farm in Blue Ash. He later built a home and remained on the Hunt Farm. In 1839, he married Elizabeth Bowen.  They had seven children: Lillis, Rachel M., an infant son who died, Miranda, Margaret, Hannah, and Wilson.  It is believed that John Craig Hunt was a merchant and businessman.
Family records indicate the original house burned and was replaced by the present house. Construction began in 1858 and was completed in 1861.
The Hunt House originally sat on 640 acres of land. The house is a transitional federal/Greek revival design, which was unusual for this area at that time. The lumber used was either clear white pine or black walnut. The doors of black walnut had a cross pattern paneling. Most of the glass in the 12-pane windows is original. The windows were the first in the countryside to utilize iron weights, and people came from all around to work the windows. Brick for the building may have come from clay on the farm; however, there is some discussion on this as the bricks are of high quality.   Huge, old trees on the property provided the lumber.
Seven generations of Hunts lived in the house continuously until 2003, when the last Hunt relative, Elizabeth Hunt Bell, sold the property to the City of Blue Ash so it could be restored and preserved.  It is now the home of the Blue Ash Historical Society and serves as a museum dedicated to the Hunt family and the history of Blue Ash.
The house is open for visitors several times throughout the year and is available for private tours for schools, clubs and other organizations.  The second floor is not open for visitors, but we have been able to set up a bedroom with furniture that is original to the home.  Over the bed is a watercolor of the Plainfield School, later used by the Sycamore Senior Center and was donated by them.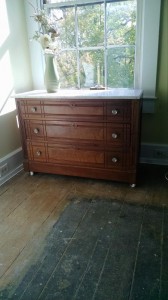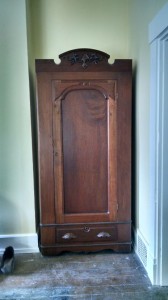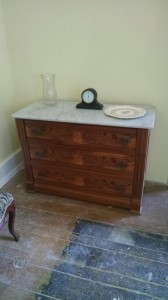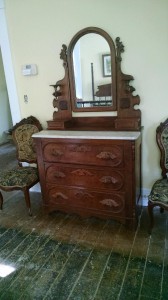 Information on setting up a tour, please contact Tom Bell at 513-324-7145, or by email at tomnkt421@aol.com
Please note that the house is not handicap-accessible at this time.