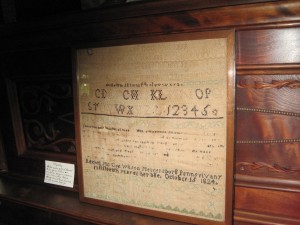 (Samplers showed off the stitcher's sewing skills and often included ABCs, numbers, Bible verses, or scenes.)
We introduce this story with a photo of a sampler on exhibit at the Hunt House.  The sampler was done by Rachel McMeen Wilson who was the great aunt of Mary McMeen Johnston who married Archibald Johnston, son of settlers John and Agnes Harvey Johnston.  The Johnston home is at the corner of Kenwood and Zig Zag Roads and dates from about 1840.
We include this story as it connects to the Johnston family of Blue Ash and because it tells of the perils faced by pioneers as they pushed westward into Indian Territory.  The drama took place in the state of Pennsylvania as the Indians were being pushed westward.
 AN ACCUNT OF THE CAPTIVITYOF RICHARD BARD, ESQUIRE, LATE OF FRANKLINCOUNTY, DECEASED, WITH HIS WIFE AND FAMILY AND OTHERS
Collected from his papers by his son, Archibald Bard.
My father, Richard Bard, lived in YorkCounty(Pennsylvania), now Adams, and owned the mill now called Marshall's mill, in what is called Carroll's tract, where in the morning of the 13th of April, 1758, his home was invested by a party of nineteen Indians.  They were discovered by a little girl called Hannah McBride, who was at the door, and on seeing them screamed, and ran into the house.  At this time there were in the house, my father, mother, and Lieutenant Thomas Potter (brother of General Potter) who had come the evening before (being a full cousin) together with a child of about six months old, and a bound boy.
The Indians rushed into the house and one of them with a large cutlass in his hand made a blow at Potter, but he so managed it, as to wrest the sword from the Indian, and return the blow, which would have put an end to his existence, had not the point struck the ceiling, which turned the sword so as to cut the Indian's hand.
In the meantime, Mr. Bard (my father) laid hold of a horseman's pistol that hung on a nail, and snapped it at the breast of one of the Indians, but there being tow in the pan it did not go off; at this, the Indians seeing the pistol, ran out of the house.  By this time one of the Indians at the door had shot at Potter, but the ball took him only in the little finger.  The door was now shut, and secured as well as possible; but finding the Indians to be very numerous, and having no powder or ball, and as the savages might easily burn down the home by reason of the thatched roof, and the quantity of mill wood piled at the back of the building, added to the declarations of the Indians, that they would not be put to death, determined them to surrender; on which a party of Indians went to a field and made prisoners of Samuel Hunter and Daniel M'Manimy.  A lad of the name of William White coming to the mill, was also made a prisoner.
Having secured the prisoners, they took all the valuable effects out of the house, and set fire to the mill.  They then proceeded toward the mountains, and my mother inquiring of the Indians who had care of her, was informed that they were of theDelawarenation.
At the distance of about seventy rods from the house, contrary to all their promises they put to death Thomas Potter, and having proceeded on the mountain about three or four miles, one of the Indians sunk a spear into the breast of the small child, and after repeated blows scalped it.
After crossing the mountain, they passed the house of Halbert T—- and seeing him out, shot at him, but without effect.  Thence, passing late in the evening, M'Cord's old fort, they encamped about half a mile in the gap.  The second day having passed into the Path Valley, they discovered a party of white men in pursuit of them, on which they ordered the prisoners to hasten, for should the whites come up with them they should all be tomahawked.  Having been thus hurried, they reached the top of the Tuskarora Mountain, and all had sat down to rest, when an Indian, without any previous warning sunk a tomahawk into the forehead of Samuel Hunter, who was seated by my father, and by repeated blows put an end to his existence.  He was then scalped, and the Indians proceeded on their journey, encamping that evening some miles on the north of Sideling Hill.
The next day they marched over theAlleghanyMountains, through what is now called Blain's Gap.  On the fifth day whilst crossingStoney Creek, the wind blew a hat of my father's from the head of the Indian in whose custody he was.  The Indian went down the stream some distance before he recovered it.  In the meantime my father had passed the creek, but when the Indian returned, he severely beat my father with the gun, and almost disabled him from traveling any farther.
And now reflecting that he could not possibly travel much farther, and if this was the case, he would be immediately put to death, he determined to attempt his escape that night.  Two days before this, the half of my father's head was painted red.  This denoted that a council had been held, and that an equal number were for putting him to death and for keeping him alive, and that another council was to have taken place to determine the question. Being encamped, my parents, who before this had not liberty to speak to one another, were permitted to assist each other in plucking a turkey, and being thus engaged the design of escaping was communicated to my mother.
After some of the Indians had lain down, and one of them was amusing one of the others with dressing himself with a gown of my mother, my father was called to go for water.  He took a quart and emptying it of what water it contained, stepped about six rods down to the spring.  My mother perceiving this succeeded so well in confining the attention of the Indians to the gown, that my father had got about one hundred yards when the Indians from the fire cried to those of another, "Your man is gone."
They ran after him, and one having brought the quart said, "Here is your quart but no man."  They spent two days looking after him while the prisoners were confined to the camp; but after an unsuccessful search, they proceeded down the stream to theAllegheny River, then toFortDuquesne, nowFortPitt.
After remaining there one night and a day they went about twenty miles down theOhioto an Indian town, on entering which a squaw took a cap off my mother's head and with many others severely beat her.  Now, almost exhausted with fatigue, she requested leave to remain at this place, but was told she might, if she preferred being scalped to proceeding.  Then they took her to a town called Cususkey.  On arriving at this place, Daniel M'Manimy was detained outside of the town, but my mother and the two boys and girls were taken into the town, at the same time having their hair pulled, faces scratched, and beaten in an unmerciful manner.  Here I shall extract from my father's papers the manner and circumstances of M'Manimy's death.  This account appears to have been obtained from my mother, shortly after her return, who received it from those who had been eye witnesses of the tragical [sic] scene.
The Indians formed themselves into a circle, round the prisoner, and commenced by beating him; some with sticks and some with tomahawks. He was then tied to a post near a large fire, and after being tortured sometime with burning coals, they scalped him, and put the scalp on a pole to bleed before his face.  A gun barrel was then heated red hot and passed over his body, and with a red hot bayonet they pierced his body with many repetitions.  In this manner, they continued torturing him, singing and shouting, until he expired.
Shortly after this my mother set out from this place, leaving the two boys and girl whom she never saw again until they were liberated.  She was now distressed beyond measure; going she knew not where, without a comforter, without a companion, expecting to share the fate of M'Manimy in the next town she would reach.  In this distressed situation she met a number of Indians among whom was a captive woman. To her, my mother made known her fears, on which she was informed that her life was not in danger, for that belt of wampum, said she, about your neck, is a certain sign, that you are intended for an adopted relation.
They soon after arrived at a town and being taken into the council house, two squaws entered in and one stepped up and struck my mother on the side of the head. Perceiving that the other was about to follow this example, she turned her head and received a second blow.  The warriors were highly displeased, such acts in a council house being contrary to usage.  Here a chief took my mother by the hand and delivered her to two Indian men, to be in place of a deceased sister.  She was put in charge of a squaw in order to be cleanly clothed.  She had remained here with her adopted friends nearly a month when her party began to think of removing to the head waters of the Susquehanna, a journey of about two hundred miles.  This was very painful to my mother having already traveled above two hundred miles over mountains and swamps until her feet and legs were extremely swollen and sore.  Fortunately on the day of setting out, a horse was given to her by her adopted brother; but before they had traveled far, one of the horses in the company died, and she was obliged to surrender hers to supply its place.
After proceeding on her journey some miles, they were met by a number of Indians one of whom told her not to be discouraged, as a peace was about to take place shortly when she would have leave to return home.  To this information she was the more disposed to give credit, as it came from one who was a chief counselor in the Delaware Nation, with whom she was a prisoner.  Having arrived near the end of her journey, to her great surprise, she saw a captive dead by the roadside, having been tomahawked and scalped.  She was informed that he had endeavored to escape but was overtaken at this place.
On arriving at the place of destination, having in all traveled near five hundred miles, the fatigue which she had undergone, with cold and hunger, brought on a sever fit of sickness which lasted near two months.  In this doleful situation, having no person to comfort or sympathize with her, a blanket was her only covering and her bed the cold earth in a miserable cabin, and boiled corn was her only food; she was reduced to a state so as to consider herself as approaching the verge of dissolution; but recovering form her sickness she met with a woman with whom she had been formerly acquainted; this woman had been in captivity some years, and had an Indian husband by whom she had one child.  My mother reproved her for this, but received for answer that before she had consented, they had tied her to a stake in order to burn her.  She added that as soon as their women captives could speak the Indian tongue they were obliged to marry some one or to be put to death.  This information induced my mother to determine never to learn the Indian language, and she adhered to this determination all the time she remained with them, from the day of her captivity to that of releasement, a space of two years and five months.  She was treated during this time by her adoptive relations with much kindness even more than she had reason to expect.
I shall now return to the narration of facts respecting my father after he made his escape from the Indians, as before stated.  It will be perceived that the following verses were composed by Richard Bard shortly before his wife's releasement, and were not intended for publication, but as they contain the most correct statement that can be procured on the subject, it has been thought proper to publish them, omitting all that has a relation to anything previous to his escape.
(The original poem contains one hundred verses, but the publisher omitted the first forty-three and made a few changes in those he published.  We omit all by the forty-fourth as the complete poem accompanied this manuscript.)
"Baresix scoremiles now we have mark'd;
But fifty doth remain
Between us and the bloody place
Where standethFortDuquane[sic—Duquesne]
Some time after my father's return home he went toFortPittand saw a number of Indians on the opposite side of the river seemingly about to form a treaty, and one evening he went over to make inquiries concerning my mother's whereabouts.  He observed among them several who were present when he was taken prisoner and to these he discovered himself.  They professed not to know him, and he inquired of them if they had not recollect having been present at the capture of nine persons, referring them to the time and place.  They then acknowledged that they remembered it and inquired of him how he got home, etc., after which he made inquiry concerning my mother, and was told that they did know now anything about her, but promised to give him some information if he would return the next day.  He then returned to the Fort.  A young man who had been taken by the Indians, when a child, followed him and advised him not to return, for when he had left them they said that they never had a stronger desire for anything than to sink a tomahawk into his head, and that they agreed to kill him if he returned the next day.  The man requested my father not o mention having seen him or the subject of their conversation and returned to camp.
I may here state from the time my father was taken by the Indians and escaped, until my mother was released, he did little but wander from place to place in quest of information respecting, and after he was informed where she was, he spent his whole time contriving plans for her redemption.  With this in view and desiring to go toPittsburg, he fell in with a brigade of wagons commanded by a Mr. Irvine.
With them he proceeded as far asBedford, and finding this a tedious way of traveling, he spoke to the commanding officer of that place to get Captain White Eyes, who commanded a party of Indians, to promise to accompany him toPittsburg.  This was accordingly done and the Indian having agreed to take him safely toPittsburgmy father set out with them, with a horse and a new rifle.
They had proceeded but about two miles when an Indian turned off the road and took up a scalp which that morning had been taken off one of the wagoners.  This alarmed my father not a little and having proceeded about ten miles further, the Indians turned off the road and brought several horses and a keg of whiskey that had been concealed.  Shortly after this the Indians began to drink and became intoxicated.  White Eyes then signified to my father that as he ran off from them he would be shot, and the Indian raised his gun to take aim; my father stepped behind a tree and ran around it and the Indian followed.  This for a time gave great amusement to the bystanders but a young Indian stepped up, twisted the gun out of the hands of White Eyes and hid it under a log.
The Indians became intoxicated and scattered, leaving White Eyes with my father who made at him with a large stick aimed at his head, and my father threw up his arm and received a blow that blackened it for weeks.  An Indian from another nation who had been sent as a messenger toBedfordcame up and Captain White Eyes asked him for his gun in order to shoot father.  The Indian refused and said they were making peace and that the killing of my father would bring on another war. (Being of different nations they were obliged to speak English.)  By this time my father found himself in a desperate situation and resolved to attempt to escape.
"Our horses were going away," he said to Captain White Eyes and went towards them, expecting every minute to receive a ball n his back but on reaching his horse he mounted him and took to the road.  He had gone but a short distance when he saw sleeping by a spring, the Indian who had taken the gun away from White Eyes; I have often heard my father say that if it had been any other Indian he would have shot him.
He feared pursuit, rode as fast as he could go, traveled all night and got to Pittsburg shortly after sunrise the next morning, but was not there more than three hours until the Indians were after him; for fear of an injury being done to my mother if he killed them, he suppressed his anger and passed the matter by.
Here he had an opportunity to write a letter to her and requested her to inform her adopted friends that if they would bring her in to him he would pay them forty pounds; he waited for an answer until he became impatient and bargained with an Indian to go and steal her.  The night before the Indian was to start he declined going and said he would be killed if he went.  My father resolved at all hazards to go himself and get her, and went to a place on the Susquehanna.  I think it was called Shomoken, not far from what is called Big Cherry Trees.
From here he set out on an Indian path, along which he had traveled until evening when he was met by a party of Indians who were bringing in my mother.  The Indians passed him by and raised the war halloo; my mother felt distressed at their situation, and my father perceiving the Indians not to be in a good humor began to promise them their pay as they had promised by letter when they would come to Shomoken, but the Indians told him that if he got them among the whites he would not pay them and then they would have no redress; as they were so apprehensive he told them to keep him as a hostage in the woods and to send his wife into town, and he would send an order for the money to be paid to them and if the money was not paid they might do with him as they pleased.
This promise had the desired effect and they became quite good humored, brought him in and the money was paid according to promise.  When my father and mother left Shomoken he requested my mother's adopted brother to call to see them if he ever came among the white people.  Accordingly when he was living ten miles fromChambersburgthe Indian paid them a visit.  The Indian staid sometime with them but became intoxicated in a tavern known as M'Cormacks and a certain man by the name of Newgen, later executed in Carlisle for horse stealing, [attacked] the Indian with a large knife which he stuck into the Indian's neck, edge foremost trying to thrust it in between the bone and the throat and by drawing it forward out of his throat, but he only cut the forepart of the windpipe.  Newgen had to escape from justice or the law would have been put in force against him.  It has been remarked that ever since then he continued to progress in vice until his death.  A physician was brought to attend the Indian, his would was sewed up, and he staid with my father until he had recovered; but when he returned to his own people, they put him to death on the pretext that he had joined the white people.
In August, 1764, according to the best record of the time, my father and his family moved to my grandfather's place, Thomas Poe's, about three miles from his own place, they did this on account of his fear of the Indians; he took a black girl with him back to his own place to make hay, and while at work a dog which he had with him, began to bark and run to and from a thicket of bushes.  Under the circumstances he became alarmed, took his gun, told the girl he believed there were Indians (Algonquins or Delawares) near and to run to the house.  So they made toward the house and had been there an hour when from the loft of the house they saw Captain Potter, late General Potter, in command of a party of men, in pursuit of Indians who had that morning murdered a schoolmaster by the name of Brown, ten small children, scalped and left for dead one by the name of Archibald M'Cullough, who recovered and was living not long since.
(This manuscript was copied from a book of Indian tales, entitled An Account of the Captivity of Richard Bard.  The book is owned by a descendant and namesake of Richard Bard, Richard Bard Graf, Hartwell,Cincinnati.  The book is undated, and while somewhat worn is in fair state of preservation.  No copyright.)
CopiedFebruary 23, 1931, by Zella M. Johnston,618 Prospect Place,Cincinnati
A note penciled onto the final page of the manuscript identifies Zella M. Johnston as the granddaughter of Catherine Poe Wilson McMeen, who was Richard Bard's granddaughter.