From a history of Blue Ash, written by Pliny A. Johnston, in 1955:
Four men and all had walked or driven their carts from Columbia to God's Country, Blue Ash, and purchased whole sections of land.  Richard Ayers got Section 22 in 1792, the northwest corner of Plainfield and Cooper Roads.
Abner Denman bought section 21 in 1793.  That started at the southwest corner of Cooper and Plainfield.
The year before, section 16 was acquired by Price Thompson, the northeast corner, and in 1793, James Carpenter bought the southeast corner.  Carpenter's Run was named after James Carpenter.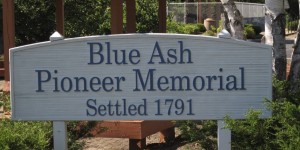 Facts about the first families of Blue Ash are found in History of Blue Ash, Ohio 1791-1991, by Mary Lou Rose:
Elizabeth and John Ferris and children left their home inGreenwich CT, followed the arduous route across the Allegheny Mountains of Pennsylvania and sailed via flatboat down theOhio River to Columbia, arriving there in the spring of 1790.  They built a cabin in Blue Ash in 1791, but they found the frontier lonely and frightening.  They relocated to Lexington, KY, returning to Ohio after the Indian Wars made the territory safer for settlement.
Richard and Mary Ayres arrived at the settlement of Columbia and made a deal with James Carpenter to trade horses and a wagon for 100 acres in what is now Blue Ash.  They, too, moved toKentucky due to the Indians and returned to Ohio in the mid-1790s.
Price Thompson purchased land with warrants from his Revolutionary War service.  He and his wife Molly came to the frontier in the early 1790s from New Jersey with two children.  They would add more children.  They also chose to settle in Kentucky, near Maysville, for five years.
Abner Denman came to Ohio with his sister, Molly Denman Thompson, and her husband, Price.  Suffering homesickness for his mother, he traveled by foot to New Jersey to visit his mother.  He returned to Blue Ash and acquired land from Price Thompson.  He married Hannah Ayres.
James Carpenter arrived in Cincinnati in 1788.  He purchased land in what was then known as Sycamore Township, and the first settlement in Blue Ash was known as Carpenter's Run.   It seems James and Mary Craig Carpenter never lived on the land.  Their daughter Hannah inherited the land from her father; she married Isaac Hunt, and they lived on this land.