Blue Ash History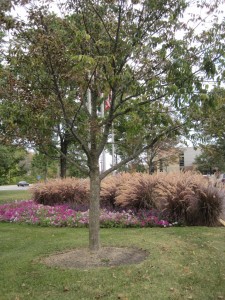 Founded by pioneer settlers in the late 1790s, Blue Ash takes its name from the logs of the blue ash trees used to build the community's first church, the Carpenter's Run Baptist Church. The church created a cemetery in 1797, now known as Plainfield Road Cemetery.   Blue Ash remained a farm community for many years, incorporating as a village in 1955 and as a city in 1961.
In 1922, the Parks Watson Airport was built, with airmail service to Louisville and Cleveland starting several years later. The community fought an effort to turn that airport into Cincinnati's major metropolitan airport after World War II.  The Blue Ash Airport has closed and the site transformed into Summit Park.
During the 1960s Blue Ash became home to Raymond Walters College (now University of Cincinnati Blue Ash), a branch of the University of Cincinnati. In the 1970s and 1980s the community grew rapidly with the addition of commercial and industrial developments.
Blue Ash remains dedicated to preserving its historic roots, maintaining the Pioneer Cemetery and acquiring and renovating the Hunt House, which has become a museum dedicated to the history of the community.