Fearing + Hagenauer Architects, Inc.  presented a power point to the Blue Ash City Council in 2005.  The following pictures and descriptions are as written on the power point.  We are grateful to the architects and the council members for their careful attention to detail and for preserving a very important segment of Blue Ash history.
The Hunt House in style is a mixture of Greek Revival, formal entry on the narrow end…
and Federal, strict symmetry and entry on long end. (Copied from power point)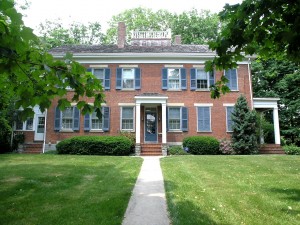 The "Widow's Walk" is an original feature to the house, not an add on.  John Craig Hunt observed like features while traveling to New Orleans probably selling lumber from the farm.
It was never finished, and only received a "handrail" when Wilbur Hunt (probably) recycled the already recycled back stoop balusters and to make the appearance of a rail 100 years later. (Above copied from power point)