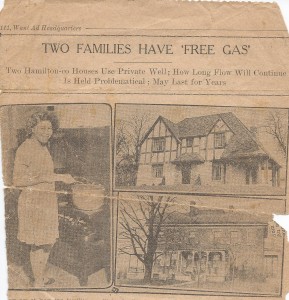 The house at the top right is the Loofburrow house; the house at the lower right is the Hunt House.  Notice the porch then compared to now.  The young lady is Elizabeth Hunt.  The captions says she "laughs at gas meters as she helps her mother cook with 'free gas.'"
The following article appeared in a newspaper, but the newspaper's name is not clearly shown.  The parts of the article which are clear to read are typed, as written, below:
TWO FAMILIES HAVE 'FREE GAS'
Two Hamilton Co. Houses Use Private Well; How Long Flow Will Continue Is Held Problematical; May Last for Years
There are at least two families in Hamilton Co who can contemplate the sizzling of breakfast on the kitchen gas stove, unalloyed satisfaction, knowing that no meter is clicking up the amount of fuel consumed.
…H. S. Loofburrow…proceeded to build a residence and then decided to drill for water.  Loofburrow employed the Joseph Koehne Sons, Norwood well drillers.  A short distance from the house they bored down 207 feet.  No water was found, but at that depth natural gas started to flow.
Union Gas and Electric Co. experts investigated but decided there could not be enough gas to be of commercial value.
However, Loofburrow piped the gas into his house and into that of Wilbur Hunt, a neighbor.  The pressure of 16 pounds was cut down to six ounces and kitchen stoves were installed.  Since last June the Loofburrow and Hunt families have been cooking with their own private fuel supply.
How long the flow will continue is problematical, but Loofburrow believes that used by only two families, it will last for years.
This section of Ohio is not a gas field, but there have been instances of gas pockets being found here and there.  They never are large enough to be valuable to gas companies.