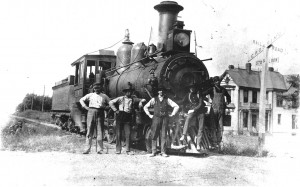 From the reverse side of the photo: 1904–C.L.&N. engine No. 3 and crew at the Cooper Road crossing in Blue Ash. From left to right are:
Red Williams, engineer; Harry Wetman, brakeman; W. C. Burnum, conductor; Billie Biehl, brakeman; Charles Miller, foreman
This photo was taken from the Blue Ash Depot located on the south side of Cooper Road.  The water tank and "Y" track for the spur to Montgomery was located about one quarter mile north up the track, behind the locomotive.
The farmhouse on the right was built by Mahlon Hosbrook in 1878.  The Hosbrook families lived there until 1944 when it was purchased by Frank F. Ferris II who still lives there.  In the early days it was used to board laborers when the railroad line was being constructed from 1875 to around 1895.