This waterfall was near the Plainfield School.  The photo dates from April 20, 1919, Easter Sunday.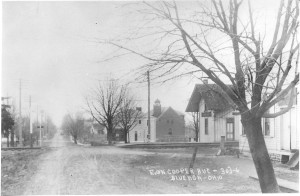 This photo dates from 1910, looking east from Conklin Avenue toward Blue Ash Road and Kenwood Road.  The Blue Ash Depot is on the right.  Other buildings shown are the H. H. Radabaugh residence, the general store, the post office, and the telephone exchange building on the school grounds.
If you recognize the landmark and/or the people in the photo, please e-mail Marlene Morris at frankmarlene@gmail.com .