BAHS members meet on the second and fourth Wednesdays each month from 1:00-3:00 at the Hunt House, 4364 Hunt Road.  We are currently taking inventory of all artifacts, photographs, and other materials found in the house, as well as collections from the city of Blue Ash and the defunct Sycamore Senior Center.
Our monthly meeting is at 7:00 pm on the second Thursday of each month.  We meet at the Blue Ash Recreation Center from January through March and in November.  From April through October, we meet at the Hunt House, located at 4364 Hunt Road, Blue Ash.  We do not meet in December.
Please contact Tom Bell at tomnkt421@aol.com or 513-324-7145 for further information on monthly meetings.
Some of our early finds:
This waterfall was near the Plainfield School.  The photo dates from April 20, 1919, Easter Sunday.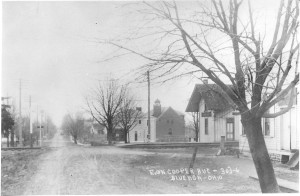 This photo dates from 1910, looking east from Conklin Avenue toward Blue Ash Road and Kenwood Road.  The Blue Ash Depot is on the right.  Other buildings shown are the H. H. Radabaugh residence, the general store, the post office, and the telephone exchange building on the school grounds.
If you recognize the landmark and/or the people in the photo, please e-mail Marlene Morris at ba2017hs@gmail.com .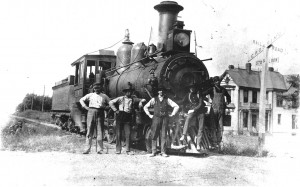 From the reverse side of the photo: 1904–C.L.&N. engine No. 3 and crew at the Cooper Road crossing in Blue Ash. From left to right are:
Red Williams, engineer; Harry Wetman, brakeman; W. C. Burnum, conductor; Billie Biehl, brakeman; Charles Miller, foreman
This photo was taken from the Blue Ash Depot located on the south side of Cooper Road.  The water tank and "Y" track for the spur to Montgomery was located about one quarter mile north up the track, behind the locomotive.
The farmhouse on the right was built by Mahlon Hosbrook in 1878.  The Hosbrook families lived there until 1944 when it was purchased by Frank F. Ferris II who still lives there*.  In the early days it was used to board laborers when the railroad line was being constructed from 1875 to around 1895.
*Unfortunately, the house is not longer standing, and Mr. Ferris has passed away.