Questions or comments or ideas for programs?  Please contact Tom Bell, president, at tomnkt421@aol.com or Kathy Swensen at 513-745-8525.
If you have memoirs or photos that you would like to share through the website or to be archived with the Blue Ash Historical Society, please contact Tom Bell or Marlene Morris.  Marlene can be reached at fgmo@fuse.net .
****************************
We are set to begin a major project of organizing, archiving, and digitalizing photos and documents that tell the story of Blue Ash and its residents.  We have no idea how long this will take and will provide periodic updates on our progress.  Our goal is to preserve fragile documents. 
We would like to introduce the members of the Blue Ash Historical Society in photos taken at the December 12, 2015 open house. New members are always welcome!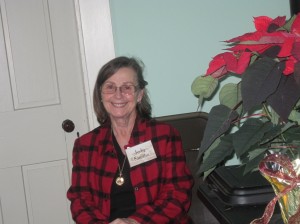 Judy Kuethe, always a gracious hostess, is our secretary and does a great job on the Blue Ash Historical Society window at BARC.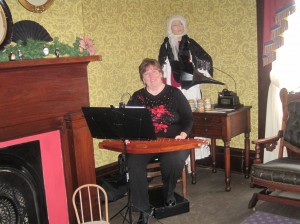 Phyllis Dwyer, who performed lovely Christmas selections on the dulcimer, is our treasurer.  All of the music Phyllis played was written before 1860.  She comes up with great ideas for new programs.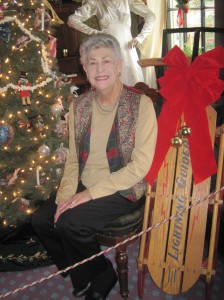 Marge McNally, ever the enthusiastic guide, is always ready to do whatever is needed, and she motivates us to properly preserve Blue Ash history.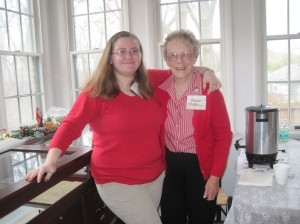 Samantha, our newest (and youngest!) member who brings fresh ideas and plenty of energy.   Elaine Holtman  makes the best hot wassail (from the Hunt family recipe) and always provides us with goodies and a warm smile.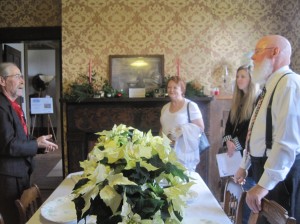 Tom Bell, BAHS president, on the left and Tom Dwyer on the right spoke with guests in the dining room.  Tom, son of Elizabeth Hunt Bell,  has a wealth of knowledge on the Hunt House and the Hunt family as well as Blue Ash landmarks.  Tom Dwyer has an encyclopedic knowledge on life in Blue Ash, and we look forward to hearing more from him.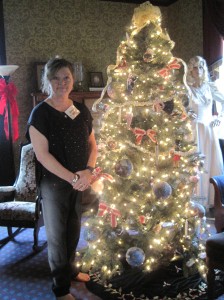 Katie Bell, Tom's wife, knows the house inside and out.  Katie has a love for the Hunt House and provides the decorator's touch to displays.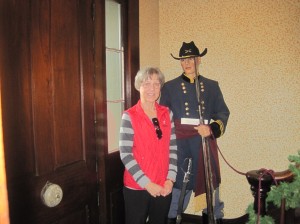 Marlene Morris updates the website and has an interest in pioneer history.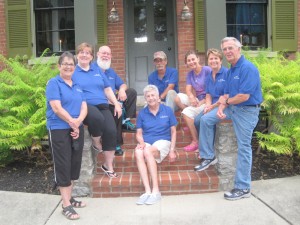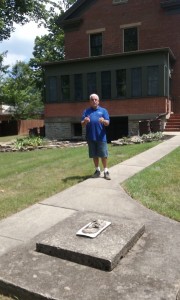 Shown at the Hunt House are, from left to right, Jennifer Wood, Phyllis and Tom Dwyer, Tom Bell, Judy Kuethe, Elaine and Dave Davis, and Marge McNally in the center.
We welcome new members Jennifer Wood, Elaine Davis, Dave Davis and Don Gautier.  Jennifer was born in England and is new to Blue Ash.  She visited an open house, joined BAHS, and hit the ground running.  We are happy to see her interest in Blue Ash history; she has a gift for baking and hospitality.  Elaine has prepared amazing flyers, beginning with our first walking tour this summer.  She has a talent for organization and has an interest in advertising our great events.  Dave can do just about anything and has a gift for organizing and getting things done.  Dave and Elaine are efficiency experts! And the new member with the divining rods is Don Gautier.  Yes, he's found the cistern!  Don is very interested in railroads.  It was the railroad coming to and through Blue Ash transferred the center of Blue Ash from Cooper and Plainfield Roads to Cooper and Kenwood Roads.