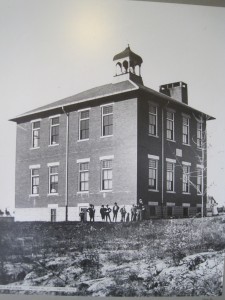 From Northeast Suburban Life,August 16, 2000
Students remember old Blue Ash schools
By Dave Phillips, Editor
            At nearly 90 years of age, Earl Baumann's memory is as tack-like sharp as when he moved to Blue Ash at age 6 and attended Blue Ash School when it was located on the corner of Cooper and Kenwood roads.
That was two schools ago.  A fourth Blue Ash Elementary is in the early planning stages.
"It was two rooms, four grades to a room," said Baumann, remembering his time there and being in the first graduating class at Sycamore High School (now Sycamore Junior High) with his six classmates.
"Mr. Zugg, who was also the principal (at Blue Ash), taught the upper four grades," he recalled.  "He was killed on a trip to Georgetown in a Model-T Ford the year I graduated."
His other school memories related to classmates like Blair Strawser, "Soup" Hosbrook, Elmer Heitmeier and Frank Mulsberry.
Good old fashioned school days included, "readin', writin'and 'rithmetic," said Baumann, whose eighth-grade class had nine—two boys and seven girls."
He said he wished penmanship was still taught in school today, "because so many people need it.
"We also had a music teacher come in once a week to teach us the scales."
Other memories include: "a board that sat in the corner with three holes in it to be used as a paddle, if needed.  I don't remember it ever being used.  It was a deterrent."
The old Blue Ash School also had a shelter on the property for those who rode the street cars.  There was a big bell in the front hall for fire drills.
Some of the other earlier recollections are about the family's move to a 56-acre farm on Madisonville Road, now known as Kenwood Rd.  He still lives on the same property, but the original acreage has been split and sold and "lots of changes have come to the neighborhood."
He, and his wife Eileen, live in the house he built with his own hands 42 years ago and they both say it is filled with memories, both just past and long ago. Their four children grew up there, and now a dozen grandchildren and a like number of great grandchildren sometimes populate the premises.
The house is also filled with a large display of arrow heads he dug up right on his property while plowing the fields with a horse-drawn team.
Back in 1916 when he moved there, Madisonville  Road was gravel, and Baumann and his brothers would travel by street car to school for five cents.  They could go to downtown Cincinnati for 25 cents on the Black Line, whose tracks ran right through the farm his father owned.  That made it convenient for transporting the farm's cow's milk to French Bauer Dairy every day.
Another look back finds Earl's mind filled with images of Highland Grove amusement park just north of Pfeiffer Road.  Baumann worked on the merry-go-round there when he was 15.
"I'd hand-crank it to get it started."  The park had an old steam engine that went through a tunnel, swings and a dance floor.
"A lot of years have gone by since then, but change is good," he said, "like running water."
Eileen said she was the one who had to haul the water in from the well.
Both remembered the life squad and fire department, changes for the better for both of the Baumanns.
Comparing that to when he was a boy, Earl said it took Doc Blackerby, "slow, but sure, in his Model T," after being called on the old crank telephone….