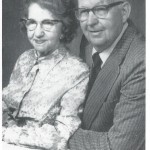 Photo of Lillian Ferris Smethurst and husband Allen Smethurst, on page 28 of History of Blue Ash, Ohio1791-1991
Interview with Lillian F. Smethurst
RecordedJanuary 25, 1989
By Elizabeth HuntBell
Today, I am interviewing Lillian Ferris Smethurst, age 90, an early resident of Blue Ash.  Her husband was William Allen Smethurst who played an active part in the incorporation of Blue Ash in 1955.
Mrs. Bell:  Where were you born?
Mrs. Smethurst: I was born inMadeira, and my husband was born inDeer Park.  His mother ran a boarding house for railroad workers.  In 1896 they built a home onCooper Roadin Blue Ash.  The home is still there and is now known as the "Hair Shaft."
Mrs. Bell:  Why did they choose Blue Ash?
Mrs. Smethurst:  My husband's father, William Smethurst, was born in the Oberle house (which was then a farm) onCooper Roadand perhaps they wanted to be closer to his family.
Mrs. Bell:  Where did you go to school?
Mrs. Smethurst:  I attended second grade at the oldBlueAshGrade   School, built in 1892, until we moved toMontgomery.  The first house we lived in was onCooper Roadacross from what is now the [Sycamore] Junior High School.  We moved from there to a farm onBloom Road, and I attended the oldMontgomerySchool, now town down and replaced by a newer building.  It was a mile and a half walk to school.  I graduated from there.
Mrs. Bell:  Can you tell me some more about your family?
Mrs. Smethurst:  My father was Warren Ferris, and he was a mail carrier.  He drove a horse and buggy to deliver the mail.  Our family was large.  I am one of nine children.  My mother was brought up in the home of Emma, Frank, and Cary Malsbary onCooper   Road, although she was never formally adopted by the elder Malsbarys.  She attended thePlainfieldSchool.
Mrs. Bell:  Can you tell me about your husband's family?
Mrs. Smethurst:  At the age of sixteen, Allen's father contracted spinal meningitis, which partially deprived him of the use of his legs.  He was a railroad dispatcher for the C L and N Railroad….Their office was on the third floor of a building on Court Street inCincinnati. Each morning, Allen took his father in a wagon from their home onCooper   Roadto the train station on Blue Ash and Cooper Roads.  Allen assisted his father onto the train toCincinnati.  He got off at Court Street and from there used canes to walk to his office.
Mrs. Bell:  What did you do after graduating from school?
Mrs. Smethurst:  I rode the train downtown and attended Mueller'sBusinessSchool.  After that, and until I married, I had several jobs, the best being at Allis Chalmers inNorwood.
Mrs. Bell:  Were you married in Blue Ash?
Mrs. Smethurst:  No, we were married in the parlor of the minister of the Montgomery Presbyterian Church.
Mrs. Bell:  Did you live in Blue Ash when you were first married?
Mrs. Smethurst:  No, we had a lovely apartment in thePioneer Building in Montgomery, which at the time was owned by Pliny Johnson.  Our first child, Billy, was born there.  Pliny later decided that he wanted the apartment for himself—so we moved to Blue Ash.
We lived in the Gould house, at Perry and Highland Avenues, a double house across from the former Blue Ash Presbyterian Church.
At a later date, we were offered a very good deal on lots onLewis   Avenue, next to Allen's homestead.  We purchased these and built our first home there.  The house still stands and is now known as "Montags Interiors."
For a while, living next door to Allen's parents, we were very happy, but then bad things began to happen.  Billy, our son, contracted mastoiditis and died.  Six months later, Allen's father, William Smethurst, passed away.  All of this happened at the beginning of the terrible Depression of the 1930s.
My husband lost his job and had to work at anything he could get, including the W.P.A.  We had to sell our home and move into my mother-in-law's house next door.  My husband finally got another job with the railroad and became Station Master at Blue Ash.  I helped him by opening the station and accepting shipments whenever he had to be away on railroad business.  The train traveled from Cincinnati to Blue Ash, to Mason, toLebanon, and on toDaytonwith possibly other stops in between.  One memory I have is of opening the station one morning to find that someone had broken in during the night and robbed us. To this day we don't know who the burglar was since he was never caught.
Another time we had a shipment of crates of chickens that we had to keep overnight.  The chickens somehow got loose, became frantic in trying to escape and created quite a scene for us in the morning—blood and feathers all over the place!
I also remember "Black Sunday."  It was during the flood of 1937, and my husband had to deliver kegs of drinking water to the downtown hospitals.
During the early years of living in Blue Ash our neighbors, the Bucks, lived across Cooper  us.  They kept a cow, and we were able to buy fresh cheese and butter from them.
The northeast corner of Cooper and Kenwood Roads was a vacant lot, and I can remember their being a medicine show held there during the summer.
Mrs. Bell:  Are there any other memories you'd like to share?
Mrs. Smethurst:  I've been a very busy person all my life.  I was very active in Blue Ash PTA and compiled a history of both the Sycamore High School PTA and the "Old-Fashioned" Garden Club.  In 1913, I joined the Montgomery Presbyterian Church.  I sang in the choir and also remember that we had a mandolin club.  There were 12 of us, and we entertained by playing at parties and dances.  We had a lot of fun.  Now I am the oldest living member of the church.
Mrs. Bell: Thank you very much for telling me all of this—it's been very interesting.
Mrs. Smethurst:   You're welcome.