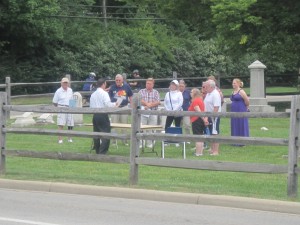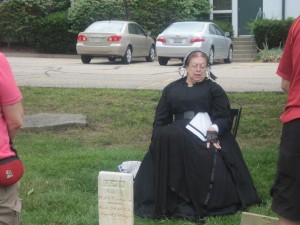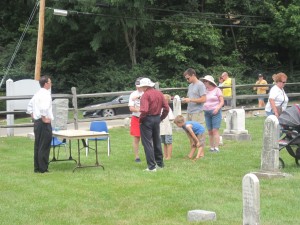 The first pioneers settled in Marietta, OH, in 1788, just months before pioneers arrived in what is today Cincinnati.  There is a tombstone in the Newport Cemetery, upriver from Marietta, for pioneer Luther Dana. The inscription is as follows: "Let not the Pioneers of Ohio be forgotten."  And, that was our theme for the day.  We were pleased to tell the stories of the brave pioneers who made their way to Blue Ash. 
We will continue to drive past the cemetery and may now and then walk amongst the markers.  We hope these photos and the stories told are a fitting tribute to the brave pioneers who left organized communities on the East Coast to settle in the Ohio Country.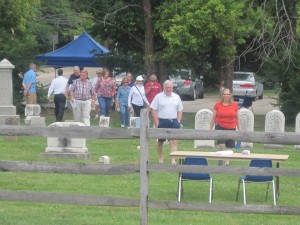 Many thanks to those who were guests at our first tour of the Carpenter's Run Pioneer Cemetery.  Special thanks to Donna Dinkelaker of the Ladies of the Living History Society of Greater Cincinnati, who portrayed a woman in mourning, and to Kurt Rosenacker of the Mihovk-Rosenacker Funeral Home, who enlightened us on burial practices.   They were wonderful!  And, a big thank you to Will McGuire and Jim Schaffer for capturing the event in photos.  The members of the Blue Ash Historical Society appreciate your presence, your questions, and your comments.  We are indebted to Kathy Swensen and the City of Blue Ash for their amazing support. 
"The wilderness masters the colonist…It takes him from the railroad car and puts him in the birch canoe.  It strips off the garments of civilization and arrays him in the hunting shirt and the moccasin…Little by little he transforms the wilderness, but the outcome is not the old Europe…here is a new product that is American…"–Frederick Jackson Turner, Significance of the Frontier in American History, as printed in The Century by Peter Jennings and Todd Brewster
We have a complete list of those buried in the Carpenter's Run Pioneer Cemetery and would like to make it available to anyone who is interested.  The reading runs for 65 pages and can be sent as an attachment.  We are not printing copies for distribution.  If you wish to have a copy, send a request to Marlene Morris at fgmo@fuse.net and mark in the subject line Cemetery Reading.  The burial locations are shown as W for the west side of Plainfield Road and E for the east side.  Inscriptions from markers are included in the reading.