Jacob and Marie Brennemann, natives of Germany, moved from 469 Liberty Street to a home in Blue Ash in 1892.  They were the parents of ten children, the first born in 1886 and the last born in 1912.  Marie's will (of public record) lists the names of the ten children.  Below is the first page of her will.  The documents on this page were researched by Dr. Eyal.  He welcomes contact by any of the descendants and is willing to share his research.  Please send any inquiries to fgmo@fuse.net , and they will be forwarded to Dr. Eyal.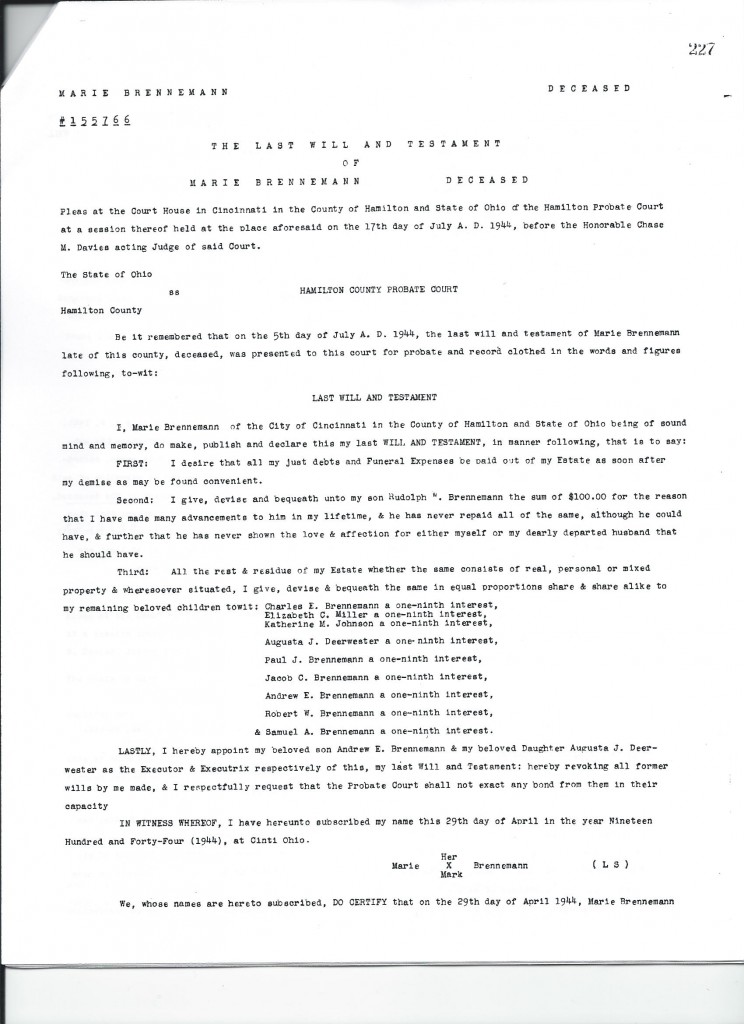 History of Blue Ash, Ohio 1791-1991, by author Mary Lou Rose, provides several references to the Brennemann family.  The name is spelled without the final "n" in Ms. Rose's book.
Pages 94-95:  "Special ceremonies were held when Blue Ash School closed its doors at the original location at Kenwood and Cooper Roads in 1985.  The school had served as a community center for more than 90 years.  Many in Blue Ash did not want the school closed and torn down. 
"A community committee planned the special closing ceremonies headed by Blue Ash School Principal Tom Steinmetz."
Andy Brenneman[n]was among the alumni honored.
Page 119—Sam Brennaman[n] was one of four or five young men who responded when  word came that Bishop Joseph C. Hartzell had been badly beaten by two men who entered his home with the intent to rob the bishop.   The date was June 1, 1928, Bishop Hartzell's 86th birthday. 
"His housekeeper, Mrs. Flora Betzger…heard the bishop invite someone to come in and saw the two young men.  They asked to use the phone.  She remembered the men as the same who had called at the house previously for help, but she had refused to let them in.  She then ran upstairs, locked herself in her room, and called the Blue Ash exchange and asked for help.
"About that time, a laundry man drove by.  Mrs. Betzger called out the window for help.  He got out of his truck to help, but the two robbers, guns drawn, held him up, and ordered him to get out.  The thieves were frightened away a minute later when a car containing Ralph Fite, Bennie Lay, Sam Brenneman[n], and Melvin McGrew (another news account gave the name of William Hosbrook) of Blue Ash, drove up.  They had been alerted when an alarm came to Hosbrook's garage in Blue Ash from the telephone operator.  The holdup men escaped by threatening these unarmed men with their revolvers, but it was believed that their prompt arrival prevented a possible murder that day."   
Bishop Hartzel died three months later. 
Page 144 ties Andy Brennaman[n] to a segment of Blue Ash postal history. 
"The post office served as a social and business center for most small communities; general information was often disseminated at the post office when residents came to pick up their mail. The post office in Blue Ash was located in, or adjacent to, a local general store with the store owner usually named the postmaster.  Door-to-door delivery did not come to Blue Ash until after World War II." 
"Miss [Alma] Weber…recalled that at one time the people in whose home the post office was housed decided they no longer had room for it.  Kids congregated there a long time before the mail was due—'it was a wonderful hangout'—and many a romance had its beginning there.  The post office had to find a new home, and her father built an addition to his grocery store for the post office when her mother, Lillian Weber, became the postmaster.
"She was followed by Mildred Frazer, who was known as the youngest postmaster in Ohio."   Mildred Frazer married Andy Brenneman[n].  Their marriage certificate: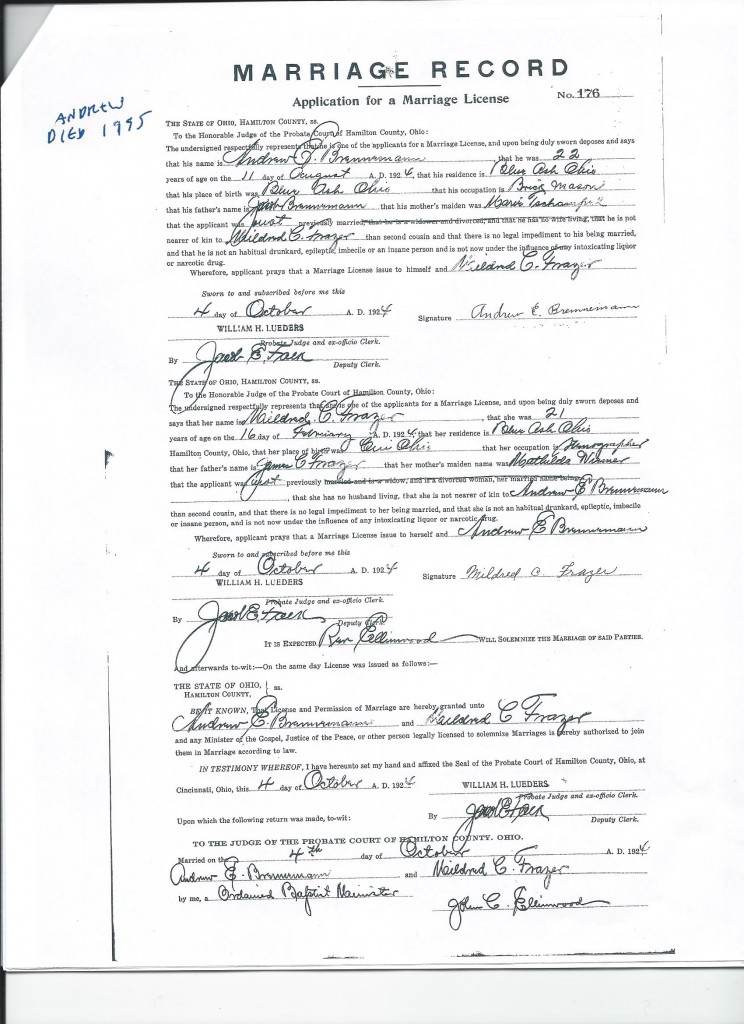 Rudolph Brennemann had special mention in his mother's will.  Below is his marriage certificate: