We were pleased to welcome Yonatan Eyal as the speaker for our January 14, 2014 meeting.   It was an amazing program, and we want to thank Dr. Eyal for sharing his research–results and techniques–and for bringing to life the story of the Brenneman family.  Following is a photo of Dr. Eyal speaking with two guests after the presentation.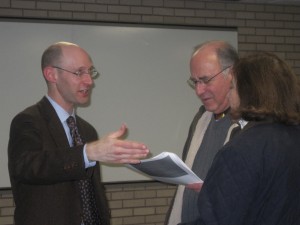 THE SIBLEY-BRENNEMANN HOUSE: A TASTE OF VICTORIAN BLUE ASH
In 1892, a young German immigrant family named Brennemann moved into a Blue Ash farmhouse that still stands today. Built by noted Cincinnati real-estate developer James W. Sibley (most often associated with Terrace Park), the home anchored a farm property that the Brennemanns inhabited for several generations. Yonatan Eyal, a nineteenth-century American historian who writes about the Jacksonian and Civil War eras, recently purchased this house and has started researching its fascinating history. Join us as Dr. Eyal presents his preliminary findings about this nineteenth-century Blue Ash home and the families who built and occupied it. Come get a taste of Blue Ash Victoriana and contribute your own local knowledge and insights as well.
ABOUT THE SPEAKER:
Yonatan Eyal received his Ph.D. in history from Harvard University in 2005 and has been a history professor at a number of colleges, including the University of Cincinnati and the University of Toronto. He is the author of a book about the early history of the Democratic party, entitled The Young America Movement and the Transformation of the Democratic Party, 1828-1861 (2007), as well as numerous articles, chapters, and reviews on nineteenth-century U.S. history. He is delighted to be living in a nineteenth-century home.